Community Health Worker (Social Navigator) Shadowing Experience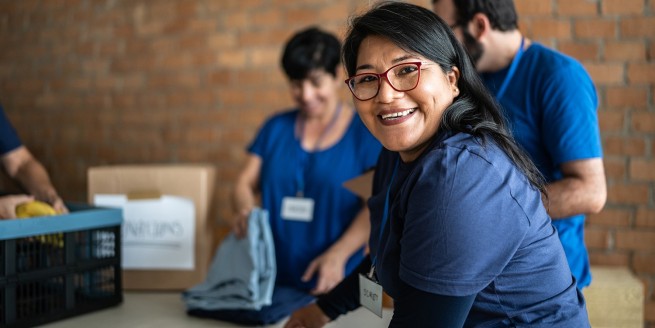 *Registration payment includes Credit Cards and Interfund Transfers ONLY.
Description
Charlotte AHEC has partnered with Camino Health Center to provide Community Health Worker Students with an interprofessional education and campus experience with the Camino Health Center Social Navigator team. Through this educational shadowing experience, the CHW students will become part of the Social Navigator team as they connect our community members to all the programs Camino provides as well as resources in the community.
Click HERE for a list of some of the potential job responsibilities that a CHW may be required to complete.

Completion of the following pre-requisite online module is required prior to attending the shadowing experience:
Coming soon - Social Navigators: Connecting Patients to Interprofessional Healthcare and Community Resources for Whole Person Care

The CHW Shadowing Experience will provide the following:
Up to 15 Contact Hours!
1 - (4 hour) Introductory Session - Campus tour, forms, and getting to know the team (required)
2 - (4 hour) Intermediate Sessions - Working closely with the Social Navigator in the clinic and community (required)
1 - (3 hour) Community Event, Camino Block Party or Neighborhood engagement (optional)

Choose from morning or afternoon introductory and intermediate sessions.
Morning - 8:30am - 12:30pm
Afternoon - 1:00pm - 5:00pm

PLEASE NOTE - All students must complete a Camino Health Care HIPAA Form and Volunteer Form prior to their shadowing experience. (Charlotte AHEC will provide these forms upon registration.)

Location:
Camino Health Center
133 Stetson Dr. Charlotte, NC 28262



What is Camino Health Center:
Camino Health Center is a bilingual and multicultural health center that provides excellent and affordable integrated care to the underinsured and uninsured populations. Their mission is to equip people to live truly healthy lives. The team at Camino Health Center live out their mission each day by focusing on the whole person and by offering a holistic approach to healthcare. It's through their four service areas of Primary Care, Behavioral Health, Health and Wellness, and Food Security, that they empower community members to enhance their physical and mental health.

Watch this short video to learn more about Camino Health Center.


What is Shadowing:
Shadowing is a short-term experience where a learner follows and observes a worker in a professional environment. In essence, when you participate this shadowing experience, you're staying in the "shadow" of an employee, going where they go and doing what they do throughout the day. Think of it like a "day-in-the-life" experience where you get to see exactly what certain professionals do all day.

As you go through your job shadowing program, you'll get to see the real-life, non-textbook version of a specific job environment. Not only will you observe the main day-to-day tasks, but you'll also discover nuances you hadn't considered and get one-on-one access to a person who has real experience in the field. In other words, when you shadow, you're effectively giving yourself a behind-the-scenes look at a certain career path.

At the end of the experience, you'll be able to answer questions like:
- Can I see myself working in this field for my entire career?
- Would I feel fulfilled and rewarded on a daily basis?
- Would I leave each day feeling stressed or worried?
- Do I have the personality, soft skills, and knowledge to work in this field?
- Would I enjoy working with people?

Prepping for Your Shadow Day:
It doesn't matter if you're a future tradesperson planning to follow a worker for a day, an officer-in-training heading out for a ride-along experience, or a pre-med student getting ready to shadow at a hospital, the preparation is the same!
Click HERE for our best tips for preparing for your job shadowing experience.

Continuing Education Credit:
(You MUST attend the Introductory Session and 2 Intermediate Sessions to receive credit.)

CEUs/Contact Hours
This Activity fulfills the requirement for a maximum of 1.5 Continuing Education Units (CEUs), representing 15 contact hours.


Disclaimer:
By registering for the program, you authorize Charlotte AHEC to release your information to Camino Health Care. Please contact the program support listed for this conference if you have any questions or concerns. Registering for and attending this program authorizes Charlotte AHEC and Camino Health Care to take audio, video, and/or still images to be used for promotional and educational purposes. Please contact the program support listed for this experience if you have any questions or concerns.
Electives