Gender-Affirming Healthcare Series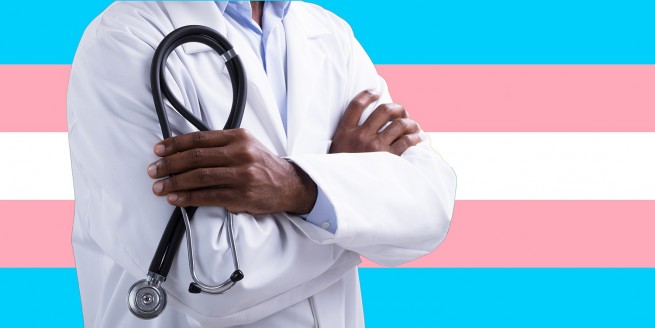 *Registration payment includes Credit Cards and Interfund Transfers ONLY.
Target Audience
Therapists, psychologists, EMT's, nurses, primary care providers, surgeons, and social workers.
Description
Transgender and gender diverse (TGD) people in the United States face numerous known health disparities, in addition to discrimination, harassment, and lack of access to quality healthcare.

One contributing factor to these health disparities may be the community's tenuous relationship to healthcare institutions. One third of transgender people reported a negative health care experience related to their gender identity in the past year; 24% said they had to educate their provider to receive appropriate care; and 23% said they had delayed or avoided care because of a fear of mistreatment by their provider, with rates substantially higher for transgender people of color (James et al., 2016). Though increasing attention is being paid to LGBT health, educational efforts are limited and typically aggregate (not trans specific) (Dubin et al., 2018). This is of particular concern because many TGD people have unique healthcare needs such as specialized psychotherapy, hormone replacement therapy (HRT), gender affirming surgical procedures, and different preventative care requirements than cisgender people.

The goal of the Gender-Affirming Healthcare Series is to increase participant's knowledge and awareness to provide culturally competent care for TGD patients across the lifespan. The series provides programming on better understanding diverse gender identities, processes of gender affirmation, specific medical and mental health needs, and best practices in competent gender-affirming care. Each session will include breakout discussions to apply learning to the educational needs of healthcare professionals at any level of experience in serving TGD patients.

Topics & Dates
Trans Wellness 101 | April 21 (In-Person) OR April 28 (Webinar)
Interdisciplinary Care | May 5 (In-Person) OR May 12 (Webinar)
Special Topics in Mental Health | May 19 (In-Person) OR May 26 (Webinar)
* You will be able to choose if you want to attend all in-person, all webinar or a mix depending on your schedule

This program is partially funded by a contract with CREW (Community Resources for Empowerment and Wellness), a grant funded by the Substance Abuse and Mental Health Services Administration (SAMHSA).

Accreditation Statement
This activity has been planned and implemented in accordance with the accreditation requirements and policies of the Accreditation Council for Continuing Medical Education (ACCME) through the joint providership of Atrium Health and Charlotte Trans Health. Atrium Health is accredited by the Accreditation Council for Continuing Medical Education (ACCME) to provide continuing medical education for physicians.

Credit Designation Statement
Atrium Health designates this Live activity for a maximum of 6.0 AMA PRA Category 1 Credit(s)™. Physicians should claim only the credit commensurate with the extent of their participation in this activity.

AAPA accepts certificate of participation for educational activities certified for AMA PRA Category 1 Credits™ from organizations accredited by ACCME or a recognized state medical society. Physician Assistants may receive a maximum of 6.0 hours of Category 1 credit for completing this program.

ANCC and the North Carolina Board of Nursing accepts AMA PRA Category 1 Credits™ from the organizations accredited by the Accreditation Council for Continuing Medical Education (ACCME).

Nurses: This educational activity with 6.0 hours can be applied towards continuing competence plan for maintaining current licensure with the North Carolina Board of Nursing.

6.0 Contact Hours (Category A) CE for NC Psychologists
The Charlotte AHEC is recognized by the North Carolina Psychology Board as an approved provider of (Category A) Continuing Education for North Carolina Licensed Psychologists.

6.0 Clock Hours NBCC
National Board of Certified Counselors (NBCC)
Charlotte AHEC and Charlotte Trans Health are cosponsors of this program. Charlotte AHEC is an NBCC Approved Continuing Education Provider, ACEP No. 5096. The ACEP solely is responsible for this program, including the awarding of NBCC credit.
Policy on Faculty and Sponsor Disclosure
In accordance with the Standards for for Integrity and Independence in Accredited Continuing Education established by the ACCME, faculty, abstract reviewers, paper presenters/authors, planning committee members, staff and any others involved in planning the educational content must disclose any relationship they or their co-authors have with ineligible companies which may be related to their content.
Live Webinar Information
The Live Webinar sessions will be broadcast with Zoom. Instructions to join the Live Webinar will be emailed prior to the event. You can test your computer by going to the
Zoom Test Page
ADA Statement
If you need any auxiliary aids or services identified in the Americans with Disabilities Act in order to attend this conference, please contact Tamara Tillman by email
tamara.tillman@atriumhealth.org
.
Objectives
Distinguish between at least 6 concepts relating to LGBTQIA+ identities (i.e., cisgender, transgender, gender expression, gender dysphoria, and sexual orientation)
Differentiate the roles of mental health, medical, and allied health providers in culturally competent, gender-affirming healthcare
Describe phases of social, legal, medical, and surgical transition/affirmation
Contact
Rebecca Osborne MA, BSPH, 704-403-5456
Electives
Trans Wellness 101
Apr 21, 2023
9:00 AM - 11:15 AM
Status

Open

Date(s)

Apr 21, 2023

Time

9:00 AM - 11:15 AM

Check-In Time

9:00 AM

Credit

0.00 - AMA PRA Category 1 Credit™
0.00 - Contact Hours (category A) CE for NC Psychologists
0.00 - CEU
0.00 - Contact Hours
0.00 - NBCC Hours
0.00 - CME for Physician Assistants
Apr 28, 2023
9:00 AM - 11:15 AM
Status

Open

Date(s)

Apr 28, 2023

Time

9:00 AM - 11:15 AM

Check-In Time

9:00 AM

Credit

0.00 - AMA PRA Category 1 Credit™
0.00 - Contact Hours (category A) CE for NC Psychologists
0.00 - CEU
0.00 - Contact Hours
0.00 - NBCC Hours
0.00 - CME for Physician Assistants
Interdisciplinary Care
May 5, 2023
9:00 AM - 11:15 AM
Status

Open

Date(s)

May 5, 2023

Time

9:00 AM - 11:15 AM

Check-In Time

9:00 AM

Credit

0.00 - AMA PRA Category 1 Credit™
0.00 - Contact Hours (category A) CE for NC Psychologists
0.00 - CEU
0.00 - Contact Hours
0.00 - NBCC Hours
0.00 - CME for Physician Assistants
May 12, 2023
9:00 AM - 11:15 AM
Status

Open

Date(s)

May 12, 2023

Time

9:00 AM - 11:15 AM

Check-In Time

9:00 AM

Credit

0.00 - AMA PRA Category 1 Credit™
0.00 - Contact Hours (category A) CE for NC Psychologists
0.00 - CEU
0.00 - Contact Hours
0.00 - NBCC Hours
0.00 - CME for Physician Assistants
Special Topics in Mental Health
May 19, 2023
9:00 AM - 11:15 AM
Status

Open

Date(s)

May 19, 2023

Time

9:00 AM - 11:15 AM

Check-In Time

9:00 AM

Credit

0.00 - AMA PRA Category 1 Credit™
0.00 - Contact Hours (category A) CE for NC Psychologists
0.00 - CEU
0.00 - Contact Hours
0.00 - NBCC Hours
0.00 - CME for Physician Assistants
May 26, 2023
9:00 AM - 11:15 AM
Status

Open

Date(s)

May 26, 2023

Time

9:00 AM - 11:15 AM

Check-In Time

9:00 AM

Credit

0.00 - AMA PRA Category 1 Credit™
0.00 - Contact Hours (category A) CE for NC Psychologists
0.00 - CEU
0.00 - Contact Hours
0.00 - NBCC Hours
0.00 - CME for Physician Assistants